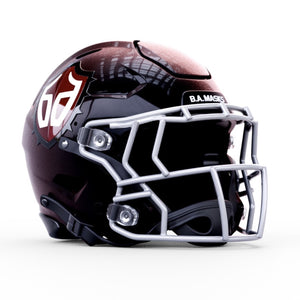 BADASS ATHLETE, Charles Gadie, DB for Western Carolina University, decided to go 
BECK EG HD is our iconic BECK facemask with the angled BECK Eyeguards paired with the HD browbars.  This mask gives the player great eye protection with a the look that helps make the athlete stand out from the crowd!
Our goal for our turnaround time is 1-3 weeks, but this time could be extended depending on the time of the year and the scheduling of our coating vendors.