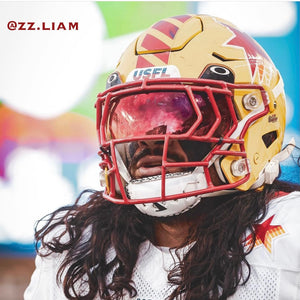 We designed this facemask for Gabriel Sewell of the USFL Philadelphia Stars.  Gabriel liked our BECK.808.EG, but he requested 2 sets of eyeguards.  This really sets this mask apart and its popularity required us to start offering this as one of our standard styles.
This mask is built for the SPEEDFLEX.
Our goal for our turnaround time is 1-3 weeks, but this time could be extended depending on the time of the year and the scheduling of our coating vendors.